TXT takes its 4th trophy while promoting "0x1 = LOVESONG" on Music Bank last June 11, 2021.
The younger group under HYBE (formerly known as Big Hit Entertainment) was contending for the no. 1 spot against their seniors BTS's "Butter."
As the "0x1 = LOVESONG" garnered a total of 6,970 points over "Butter" with 5,315 points, TXT earns their fourth win.
Tomorrow By Together's recent title track is from their "THE CHAOS CHAPTER: FREEZE." It is the group's 2nd studio album under Republic Records and Big Hit Music.
The album has eight songs in total. "THE CHAOS CHAPTER: FREEZE" tracks were created by seasoned producers in the music industry. What's more, the members are more involved with the conception of their album.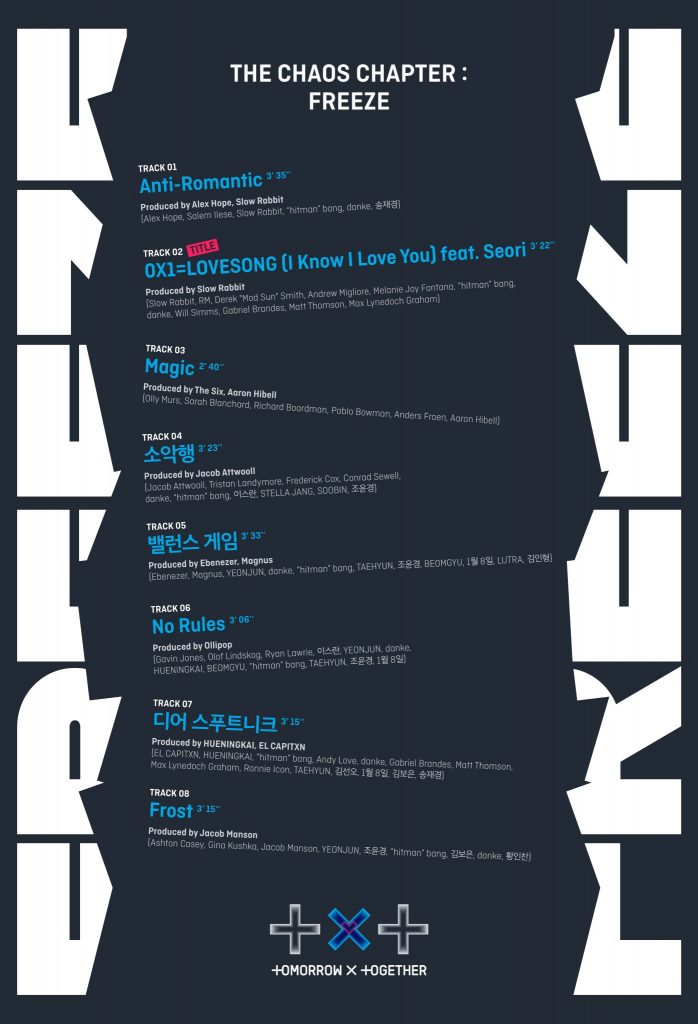 What's the story behind TXT's title track?
The title track came as an inspiration from one of the most trending Netflix series,
"The End of the F***ing World." "The changes in the emotions felt by the characters in the series as they ventured on came in line with those felt in our song." @TXT_members
Did BTS's leader RM help with 0x1 = LOVESONG?
What was even exciting is the fact RM of BTS was among the producers of the title track. It was a pleasant and thrilling surprise for MOAs (TXT's fandom) and ARMYs (BTS's fandom).

From their interview on May 31, 2021, in their press conference, the CEO of HYBE and the father of BTS Bang Si-Hyuk had a difficult time with the song's lyrics. As a result, producer Bang asked BTS's RM for his assistance, to which he graciously accepted. Furthermore, the title came through thanks to BTS's RM's suggestion.
Soobin: "Struggling 3 weeks over the lyrics, producer Bang asked @BTS_twt RM for help, and gratefully, he did. Also, we had two versions for the title, and it was RM who said '0X1=LOVESONG' seemed to better suit the song, and that's how the final name was decided." @TXT_members

— KpopHerald (@Kpop_Herald) May 31, 2021
The MV has garnered 19 million views with 2.1million likes since it's premiere last May 31.